VARA
INSPIRED BY A BARN
For us, sustainability does not start with production, but as early as in the development of ideas for new collections. Unique pieces can only be created by focusing on durability and a timeless design that you want to keep for a lifetime There is therefore no better source of inspiration for our designers than nature.

SUSTAINABLE MATERIAL MIX

ROUGH SAWN SURFACE

EXCLUSIVE AMBIENCE
Living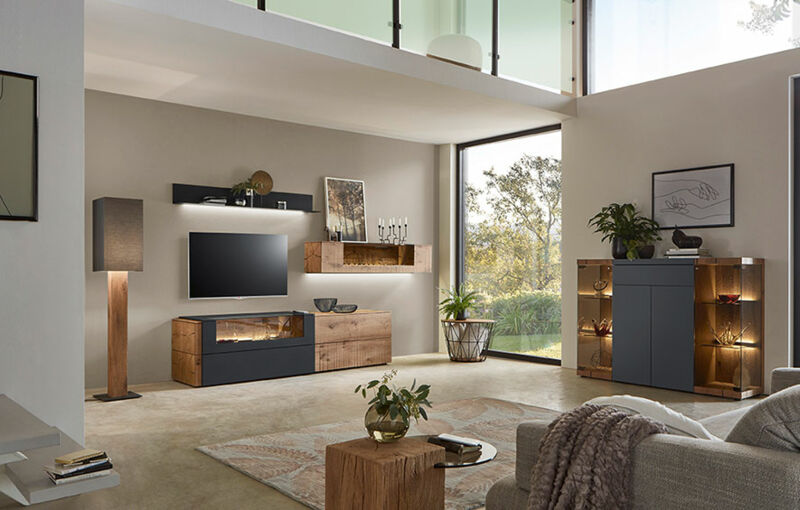 Suggested Vara combination 32A
Overall dimensions:
W 300 cm | H 185 cm | D 55/20 cm
"Natural pieces" standard lamp 1053:
W 30 cm | H 166 cm | D 30 cm
"Natural pieces" coffee table 1072:
W 62 cm | H 46 cm | D 62 cm
Highboard 6151A:
W 152 cm | H 113 cm | D 44 cm
"Natural pieces" side table 1003:
W 58 cm | H 56 cm | D 40 cm
Dining room
Make nature the focus of your life.
We spend much of our lives in the dining area. We hold lively conversations and spend romantic evenings here, and also enjoy handicrafts, games and work. Our dining tables made of solid core oak are ideally equipped for all of this: they are extremely robust, durable and stable.
Dining table 1525:
L 190 cm | W 95 cm | H 76 cm
Nuri chair 0637:
W 58 cm | H 87,5 cm | D 56,5 cm
Nila chair 0696:
W 56 cm | H 87 cm | D 58,8 cm
Caro bench 0832:
W 180 cm | H 83 cm | D 39 cm
Standing element left 0031:
W 33 cm | H 207 cm | D 44 cm
Standing element right 0038:
W 39 cm | H 207 cm | D 44 cm
Pendant light:
C 8/11/12 cm | H 30/35/43/57/65 cm
Umato heartwood
For manufacturing our Umato heartwood oak surfaces, planks of wood are first selected from the heartwood area of the oak trunk. These heartwood planks depict typical characteristics, e.g. heartwood splits and splay knots. The assorted products are then stored before drying for several days in a special chamber are subjected to a smoking process there. During this process, the wood is solid coloured and as a result, it gains an even dark colouring. The character of old oak logs emerges.
Oak heartwood is a traditional furniture wood. Umato oak heartwood gets slightly lighter with age. This is hardly noticeable because the change happens so slowly.
Two layers of very matt UV water-based paint are applied to the intensively brushed wood. The surface is sanded down after every procedure. Wax is applied as the last layer.